Florida's Natural Growers
A Division of Citrus World, Inc.
20205 US Highway 27 North
Lake Wales, Florida 33853
(863) 676-1411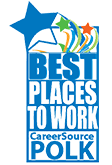 Florida's Natural won CareerSource POLK's Best Places to Work award three years in a row, which has earned us a special Employer of Distinction Award.
Florida's Natural was also awarded 2014 "Employer of the Year" by the Florida State Association of Occupational Health Nurses.
We offer competitive wages and great benefits.
We are a Drug-Free and Alcohol-Free Workplace.
All qualified applicants will receive consideration for employment and will not be discriminated against on the basis of disability.
Citrus World, Inc. also maintains affirmative action programs to implement our equal employment opportunity policy. Employees or applicants who wish to review appropriate portions of these programs may schedule an appointment to do so by contacting the Human Resources Office during normal business hours.
Please be advised that we do not accept unsolicited resumes from outside agencies or recruiters unless specifically requested by a representative of Florida's Natural Growers. Any such submitted resumes will not be eligible for referral fees and will not be considered candidates Florida's Natural Growers may directly contact for employment applications.
Current Job Openings
---

What's with the White Caps?
In order to keep your local grocer stocked with delicious Florida's Natural orange juice, we've moved from our signature orange-slice cap to an all-white cap. This temporary move is driven by our cap supplier streamlining production to meet increased demand during Covid-19. However, rest assured that the Florida's Natural orange juice behind the white cap is the same delicious juice, made by Florida farmers, from only 100% Florida oranges.
We'll return to our iconic orange-slice caps in just a few weeks, as soon as our supplier catches up with demand.
The Farmers of Florida's Natural
Read More