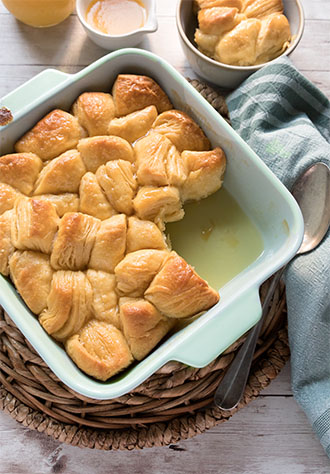 Saucy Orange Rolls
What's cooking
These buttery, citrus-y biscuits are perfect for brunch. They're a staple on our tables—right next to the Florida's Natural® Orange Juice.
Ingredients
1 cup sugar
1 stick margarine
1 cup Florida's Natural® Orange Juice
One 10-count can biscuits
Instructions
Bring all ingredients except biscuits to a boil and simmer for about 5 minutes.
In the meantime, cut one 10-count can of biscuits into quarters in an 8- or 9-inch-square baking pan.
Pour boiling mixture over biscuits, coating well.
Bake at 350-375° F for about 20 minutes, or until biscuits are golden, basting every 5-10 minutes with liquid.
Remove and spoon into dessert bowls.