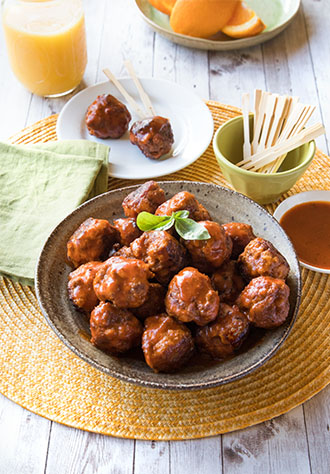 Zesty Meatballs
What's cooking
Want to spice up a party? Pass around a tray of these zesty meatballs at your next get-together. That touch of citrus is a real crowd-pleaser.
Ingredients
1 cup bottled barbecue sauce
3/4 cup orange juice reduction*
1/4 cup water
1 beaten egg white
3/4 cup graham cracker crumbs
3 tablespoons milk
2 teaspoons prepared mustard
1/4 teaspoon salt
1/8 teaspoon pepper
12 ounces lean ground beef
12 ounces ground raw turkey or chicken
Nonstick cooking spray
1 orange (optional)
Instructions
*In a small pan, bring 1 & 1/2 cups of Florida's Natural® Orange Juice to a boil; reduce heat and simmer until half the liquid—3/4 cup—remains. Let cool.
In a bowl, stir together the barbecue sauce, orange juice reduction and water; set aside.
For meatballs: In a large mixing bowl, combine egg white, graham cracker crumbs, milk, mustard, salt and pepper. Add beef and turkey/chicken; mix well. Shape into 36 meatballs. Spray an unheated 12-inch skillet with nonstick cooking spray. Add meatballs and brown on all sides over medium heat, then place meatballs in a 2-quart casserole dish. Pour sauce over meatballs. Cover and bake in a 350° F oven for 1 hour. Serve with wooden toothpicks. If desired, garnish with cut-up orange pieces.
Serves 8-10