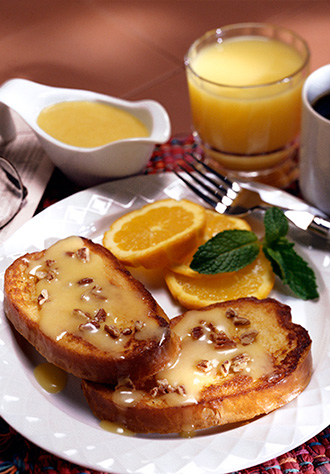 Baked Orange Pecan French Toast
What's cooking
Submitted by Steffen Bentley, Citrus Marketing Services, Inc.
This is one of our all-time favorite brunch recipes. Drizzle your French toast with orange syrup and pour some Florida's Natural® Orange Juice. It all goes together like Saturday and Sunday.
French Toast Ingredients
4 eggs
2/3 cup Florida's Natural® Orange Juice
1/3 cup milk
1/4 cup sugar
1/2 tsp. vanilla extract
1/4 tsp. ground nutmeg
8 & 1/2-inch thick bread slices
1/4 cup butter or margarine
1/2 cup chopped pecans
Orange Syrup Ingredients
1/2 cup sugar
1/2 cup butter
1 cup Florida's Natural® Orange Juice
Instructions
Beat together eggs, juice, milk, sugar, vanilla extract, and nutmeg.
Arrange bread in a single layer and top with egg mixture. Refrigerate for 2 hours.
Melt butter in a 10x15x2-inch pan, and arrange bread on top.
Bake at 350º F for 20 minutes. Sprinkle with pecans and bake for another 10 minutes.
For the sauce, combine and cook over low heat. Do not boil. Cook for 10 minutes and serve warm.
Serves 4