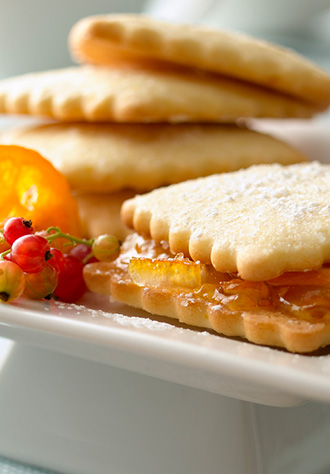 Orange Marmalade Sandwich Cookies
What's cooking
These pastry-like, shortbread-type cookies are sandwiched and sprinkled with sweetness (coarse and powdered sugar). For a slightly sweeter version, add 3/4 cup of sugar to the dough, or substitute chocolate or any sweet jam for the orange marmalade.
Ingredients
2 & 1/4 cup all-purpose flour
1 teaspoon baking powder
1/4 teaspoon salt
3/4 cup butter, softened
2 eggs
2 tablespoons Florida's Natural® Orange Juice
Zest of 1 orange
1/2 teaspoon orange extract
1 egg white
2 tablespoons water
Coarse sugar
Orange marmalade
Powdered sugar
Instructions
In a medium bowl, sift together the flour, baking powder and salt. In large mixer bowl combine the butter, eggs, orange juice, zest and extract. Beat at medium speed, scraping the bowl often, until blended. Gradually add flour mixture. Divide dough in half; wrap in plastic wrap and chill for 3 hours. Roll out each half of the dough on a lightly floured surface to 1/8-inch thickness. With scalloped cutters, cut into shapes; place on baking sheet. In a small bowl, stir together the egg white and water. Brush the cookies with mixture and sprinkle with coarse sugar.
Bake at 375° F for 8 to 10 minutes, or until lightly browned. Sandwich cookies together with orange marmalade and sprinkle with powdered sugar.