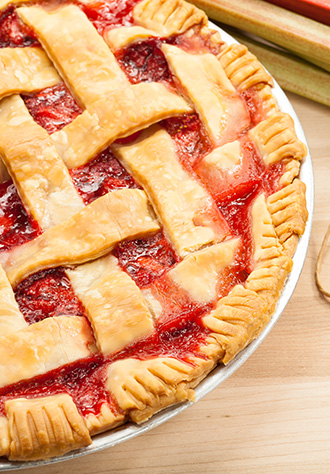 Strawberry Rhubarb Pie
What's cooking
There's nothing more fun than a red, white and blue dessert on the Fourth of July. Using Florida's Natural® Orange Juice in the sauces adds a healthy, natural sweetness.
Ingredients
1 tablespoon grated orange rind*
1 & 1/2 cups sugar
2 tablespoons quick-cooking tapioca
1/4 teaspoon salt
1/4 teaspoon nutmeg
1/4 cup of Florida's Natural® Orange Juice
3 cups rhubarb
1 & 1/2 cups strawberries, sliced
1 tablespoon butter
1 double pie crust
Instructions
Preheat oven to 400° F.
Prepare double pie crust.
*When making crust from scratch, add the orange rind when you add the water.
Combine sugar, tapioca, salt, nutmeg, orange juice and rhubarb. Place in pie crust. Top with strawberries and dot with butter. Top with second pie crust.
Brush with milk and sprinkle sugar on top.
Bake for 40-50 minutes.