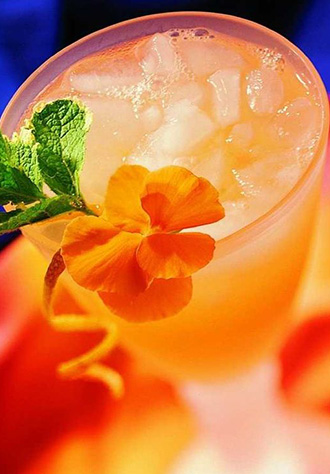 Florida Spritzer
What we're mixing up
You can get as fizzy and fancy as you like with this recipe. Use edible flowers as a garnish, or just a simple fresh grapefruit peel. It's refreshing every time.
Ingredients
1 & 1/2 cups Florida's Natural® Ruby Red Grapefruit Juice
1/4 cup sugar
Cinnamon stick
Two to three 12-ounce cans of ginger ale
Ice cubes
Grapefruit peel curls (optional)
Edible flowers (optional)
Fresh mint sprigs (optional)
Instructions
Combine grapefruit juice, sugar and cinnamon stick in a saucepan. Bring to a boil, reduce heat and simmer, uncovered, for 5 minutes. Discard cinnamon stick, cover syrup and chill.
When ready to serve, fill four 8-ounce glasses with ice. Add about 1/3 cup of grapefruit syrup to each glass. Fill glass with ginger ale and stir gently. If desired, garnish with grapefruit peel curls, edible flowers and fresh mint sprigs.
Serves 4