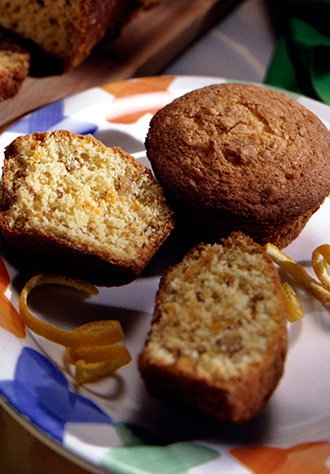 Orange Sour Cream Muffins
What's cooking
Submitted by Steffen Bentley, Citrus Marketing Services, Inc.
Even while they're still baking, these muffins get folks saying more than "Good morning." It's more like, "Great day, what have you done?"
Ingredients
6 tablespoons butter, softened
1 cup sugar
1 egg
1/2 cup sour cream
2 tablespoons + 2 teaspoons Florida's Natural® Orange Juice
2 tablespoons grated orange rind
1/2 teaspoon orange extract
1 & 1/2 cups flour
1/2 teaspoon baking soda
1 & 1/2 teaspoons baking powder
1/2 teaspoon salt
1/2 cup chopped pecans
Honey Butter Spread Ingredients
1/4 cup butter, softened
1/4 cup honey
1/8 teaspoon cinnamon
1/8 teaspoon nutmeg
Instructions
Cream together butter and sugar. Beat in eggs.
Fold in sour cream, orange juice, orange rind and orange extract.
Add sifted dry ingredients to orange mixture, blending well.
Stir in pecans.
Fill greased muffin tins half to three quarters full.
Bake at 375° F for 12 minutes.
Serve with Honey Butter Spread.
Honey Butter Spread Instructions
Blend all ingredients together.
Serves 12