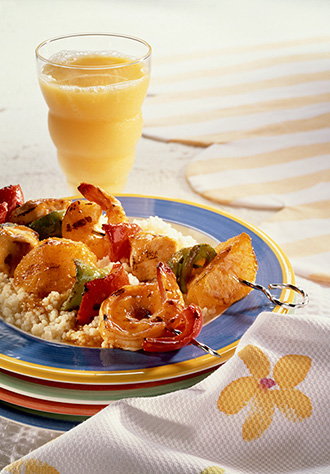 Floribbean Shrimp and Chicken
What's cooking
We couldn't decide if these kebobs were more Caribbean or Floridian—so we cooked up a sunny new word. This dish combines chili, pepper and citrus for a taste of the Floribbean.
Ingredients
2 cups Florida's Natural® Orange Juice
1 teaspoon grated orange peel
1 teaspoon honey
1 & 1/2 teaspoon chili powder
1/4 teaspoon ground cumin
12 ounces large shrimp in shells, peeled and deveined
8 ounces skinless, boneless chicken breast
3 small oranges, peeled
2 medium red and/or green bell peppers, cut into 1-inch pieces
Instructions
For sauce: In a small saucepan, stir together orange juice, grated orange peel, honey, chili powder, and cumin; cook and stir over medium heat until sauce reduces to approximately 1 cup or coats the back of a spoon. Set aside 1/4 cup sauce.
Rinse shrimp and chicken. Pat dry. Cut chicken into 3/4-inch pieces. Divide each orange into 8 wedges and remove seeds. On twelve 8-inch skewers (or six 12-inch skewers), alternately thread chicken, shrimp and orange with pepper pieces, leaving about 1/4 inch between pieces.
In a grill with cover, arrange preheated coals around drip pan. Test for medium heat above pan. Place kebobs on grill over drip pan, cover and grill for 6 minutes. Carefully turn kebobs (be sure oranges turn with kebobs); brush generously with sauce, cover, and grill for 5 to 7 more minutes, until shrimp is opaque and chicken is tender and no longer pink, and continue brushing with sauce. Thin the reserved 1/4 cup sauce with 1-2 tablespoons water or until desired consistency. Drizzle sauce over kebobs.
Serves 6