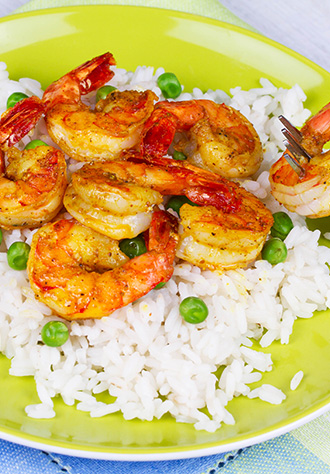 Punjab Spiced Shrimp
What's cooking
We love this spicy recipe from North India. Come to think of it, so does our Florida's Natural® Orange Juice.
Ingredients
1 pound large shrimp (24 count)
2 teaspoons white vinegar
3/4 to 1 teaspoon cayenne pepper
1 teaspoon ground cumin
1/2 teaspoon salt
2 medium sweet onions, peeled
1/4 cup olive oil
2 teaspoons Oriental sesame oil
1/2 to 1 cup Florida's Natural® Orange Juice
Instructions
Leaving the tail attached, devein and peel the shrimp. Rinse and pat dry. Place in a tight freezer storage bag.
Mix vinegar, cayenne, cumin and 1/4 teaspoon salt until they have formed a smooth paste. Add to shrimp. Working through the bag, mix the spice mixture with the shrimp, coating them completely. Set aside to marinate while cooking onions.
Cut onions into thin slices.
Heat the oils together in a large skillet or wok. When hot, add onions and remaining 1/4 teaspoon salt. Cook over high heat until most of the juice has evaporated. (If you prefer a more saucy dish, use a full cup of juice. You can start with 1/4 cup and add more as needed.)
Add the shrimp and cook until they turn opaque, about 3 minutes, stirring several times.
Serve over a bed of white rice or cooked leaf spinach.
Serves 2-4