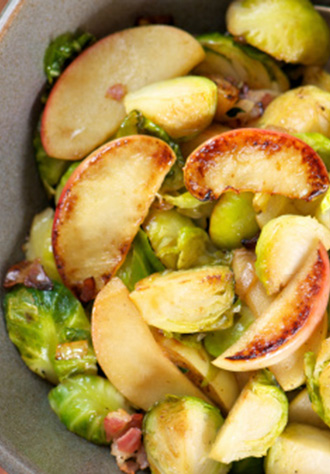 North Georgia Apple and Crispy Brussels Sprouts
What's cooking
Courtesy of Chef Jay Swift, 4th & Swift Restaurant, Atlanta
Brussels sprouts are available year-round. However, they are at their best from autumn through early spring—the peak of their growing season.
Ingredients
2 & 1/2 cups Florida's Natural® Apple Juice
1/2 cup shelled raw pistachios
1 sprig rosemary, stem removed, leaves finely chopped
1 pinch fleur de sel
Vegetable oil for frying
26 Brussels sprouts, trimmed and cut in half
2 tablespoons sherry vinegar
Salt and pepper
1/2 cup crème fraîche
2 tart apples, such as Granny Smith, peeled, quartered, cored and thinly sliced
Instructions
In a small pot over high heat, boil cider until it is reduced to a thin syrup—about 30 minutes (you will have about 1/4 cup). Set aside to cool. Meanwhile, in a small, ungreased pan over low heat, toast the pistachios, stirring occasionally, until toasted—about 10 minutes. Remove from pan to cool, then chop coarsely (by hand or in a food processor). Combine the chopped pistachios with the chopped rosemary and fleur de sel. Set aside.
In a heavy pot or fryer, heat the oil to 350° F. Fry the Brussels sprout halves until the outside leaves begin to turn golden-brown. Do not overfry or they will turn mushy. Remove the sprouts from the oil and toss in a bowl along with the sherry vinegar and a dash each of salt and pepper.
On each of four plates, spread 2 tablespoons of crème fraîche in a line. Liberally drizzle with the reduced apple cider. Arrange 6 or 7 sprout halves over the crème fraîche. Top each with one fourth of the apples. Top with the remaining sprouts. Drizzle with the cider reduction, then sprinkle each salad generously with the pistachio mixture. Serve immediately.
Serves 4