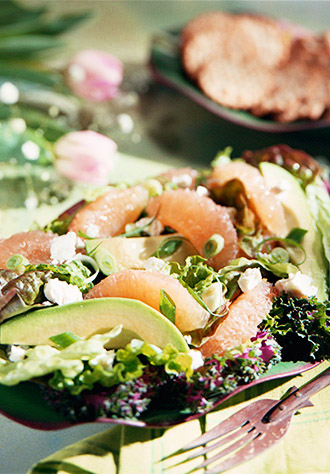 Grapefruit-Avocado Salad
What's cooking
Submitted by Mary Kay Swartsel, Lake Wales Citrus Growers Association
This is no ordinary fruit salad. In fact, we're still amazed at how well the various flavors blend—and how fast it became a family favorite.
Ingredients
2 to 3 cups pink grapefruit sections
1 avocado, peeled and sliced
3/4 cup crumbled feta cheese
3/4 cup sliced scallions
Lettuce
Instructions
On a lettuce-lined plate, arrange grapefruit sections and avocado slices.
Sprinkle cheese and scallions over the top.
Add 3/4 cup of your favorite salad dressing.
Serves 4