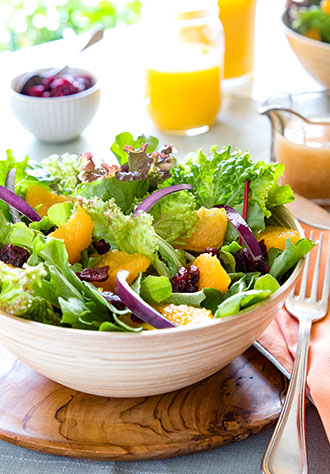 Orange Citrus Salad
What's cooking
We growers spend a lot of time tending oranges—and eating them. We especially enjoy this salad with a sizzling steak.
Salad Ingredients
1 head romaine lettuce
3 oranges, peeled and cut into sections
1 red onion, thinly sliced
1/2 cup Craisins®
Dressing Ingredients
2 tablespoons Florida's Natural® Orange Juice
2 tablespoons red wine vinegar
1/4 teaspoon orange oil
1/2 cup olive oil
1 teaspoon Dijon mustard
1/2 teaspoon salt
Freshly ground pepper
Instructions
In a serving bowl, toss salad ingredients.
In a small bowl, whisk together the orange juice and vinegar.
Gradually whisk in orange oil and olive oil; season with mustard, salt and pepper.
Dress salad.
Serves 8