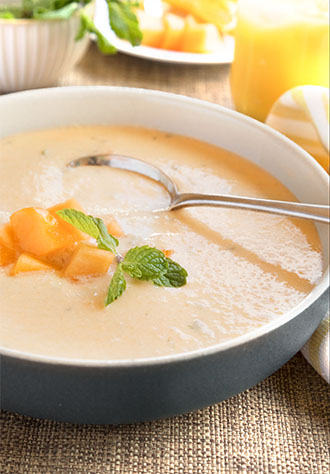 Iced Orange Juice and Lemon Cucumber Soup
What's cooking
Soup on ice? Absolutely. This healthy soup is so tasty, even kids love it. The subtle flavor of the lemon cucumbers makes all the difference.
Ingredients
Lemon cucumbers are small, melon-shaped cucumbers with a fresh, healthy taste. You can often find them at farmers' markets. In fact, to maximize the flavor and nutrients, buy the lemon cucumbers, cantaloupe, honey, and mint at your local farmers' market.
1/4 cup Florida's Natural® Orange Juice
1/4 cup fresh lime juice
2 lemon cucumbers, peeled, seeded and sliced
1 small cantaloupe, seeded and sliced
2 tablespoons honey
1 cup vanilla yogurt
1 tablespoon chopped fresh mint
Instructions
Combine orange juice, lime juice, lemon cucumbers, cantaloupe and honey in a blender or food processor and blend until smooth.
Stir in yogurt and mint.
Chill for at least 2 hours and serve cold.