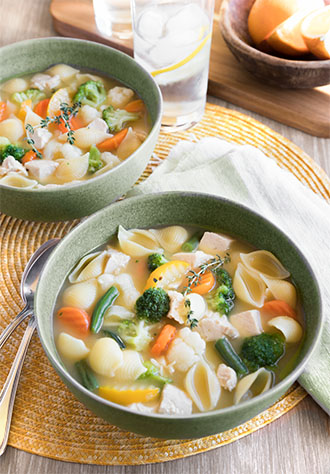 Turkey Soup
What's cooking
Years ago, we made this tasty soup from post-Thanksgiving Day turkey. But we loved it so much that we started roasting turkey just to make the soup.
Ingredients
4 & 1/2 cups chicken broth
1 cup water
1 teaspoon crushed thyme
1/4 teaspoon pepper
1 cup packaged dried small-shell macaroni
One 16-ounce package frozen mixed vegetables
2 cups chopped turkey (chicken may be substituted)
2 cups Florida's Natural® Orange Juice
Orange slices, halved (optional)
Herb sprigs (optional)
Instructions
In a large saucepan, combine broth, water, thyme and pepper.
Bring to a boil and stir in macaroni.
Return to boiling, reduce heat and boil gently, uncovered, for 3 minutes.
Stir in vegetables; return to a boil.
Boil gently, uncovered, for 5-7 minutes, or until vegetables and pasta are tender.
Stir in turkey and orange juice, heat through.
If desired, garnish with orange slices and herb sprigs.
Serves 5-6