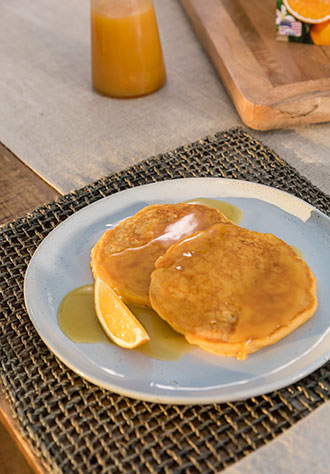 Sweet Potato Pancakes with Orange Juice Syrup
What's cooking
Here's a great way to give pancakes personality: combine the sweet earthiness of sweet potatoes with some liquid Florida sunshine! Easy to make, and so scrumptious. These aren't your grandma's pancakes...they're Damaris'.
Recipe courtesy of Damaris Phillips, Food Network Host.
Syrup Ingredients
3 cups Florida's Natural orange juice
1/4 cup honey
2 tablespoons unsalted butter
5 to 6 dried apricots, cut into small dice
Pancake Ingredients
2 1/2 cups cooked sweet potatoes, mashed
2 1/2 cups buttermilk
1/4 cup sugar
2 large eggs
7 tablespoons coconut oil, melted
2 cups all-purpose flour
1 1/2 teaspoons baking powder
3/4 teaspoon cardamom
1/2 teaspoon baking soda
1/2 teaspoon kosher salt
Instructions
For the syrup: Combine the orange juice and honey in a saucepan, and bring to a boil over medium heat. Stir and reduce the heat to low. Cook until the liquid reduces by half and is thick enough to coat the back of a spoon, 15 to 18 minutes. Remove from the heat, and add the butter and apricots, whisking to combine. Set aside to cool slightly while you make the pancakes.
For the pancakes: Add the sweet potatoes, buttermilk, sugar, eggs and 3 tablespoons of the coconut oil to a large bowl. Stir to combine until homogeneous.
Combine the flour, baking powder, cardamom, baking soda, and salt in a large bowl and whisk to combine. Make a well in the center of the dry ingredients and add the wet ingredients. Fold gently to combine into a thick batter. Do not overmix.
Set a large cast-iron skillet over medium-low heat, add 1 tablespoon coconut oil and coat the skillet evenly. Using a 1/4-cup portion scoop, add 4 to 5 batches of batter to the skillet. Do not overcrowd. The batter should spread slightly, but if it doesn't, give the skillet a little shake to help the batter settle. Cook until small air bubbles form around the edges and the bottoms are golden brown, 2 to 3 minutes. Flip and continue to cook until the pancakes are fluffy, cooked through, and golden on the second side, about 2 minutes. Transfer to a wire rack fitted over a baking sheet and hold in a warm oven. Repeat the steps until all the batter is cooked.
Serve immediately with the orange juice syrup.
Yield: 4 servings
Prep Time: 30 minutes
Cook Time: 50 minutes
Ease of preparation: easy
Active Time: 50 minutes
Total Time: 1 hour 10 minutes