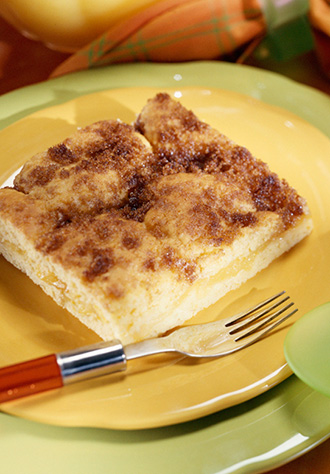 Key West Coffee Cake
What's cooking
From the southernmost point in the continental U.S. comes this most Southern coffee cake. Citrus is everywhere—from cake to topping. All y'all need now is a tall glass of Florida's Natural® Orange Juice.
Ingredients
2 oranges, peeled, sectioned and seeded
One 15 & 1/2-ounce can pineapple tidbits, drained
1 cup orange juice reduction*
1/3 cup water
1/4 cup sugar
1/4 cup cornstarch
3 & 1/2 cups packaged biscuit mix
1/2 cup sugar
3/4 cup skim milk
1 egg plus 2 egg whites
2 tablespoons butter or margarine, melted
1/2 cup packed brown sugar
1/2 teaspoon ground cinnamon
Instructions
In a small pan, bring 2 cups Florida's Natural® Orange Juice to a boil; reduce heat and simmer until half the liquid—1 cup—remains. Let cool.
In a medium saucepan, stir together orange sections, pineapple tidbits, 1/4 cup orange juice reduction, water, 1/4 cup sugar and cornstarch. Cook and stir until mixture is thick and bubbly. Set aside.
In a mixing bowl, stir together biscuit mix, remaining orange juice reduction, 1/2 cup sugar, milk, egg, egg whites, and butter. Spread half the batter in a greased 9x13x2-inch baking pan. Spread fruit mixture over batter. Drop remaining batter in small mounds on filling. For topping, stir together brown sugar and cinnamon, and sprinkle over batter. Bake in a 350° F oven for 40 to 45 minutes, or until golden brown. Serve warm.
Serves 15