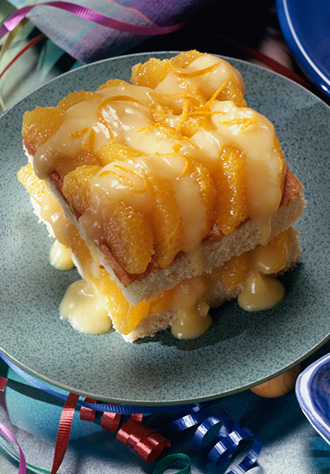 Navel Orange Shortcake
What's cooking
Submitted by R.C. Hutchinson, Haines City Citrus Growers Association
When you hear "shortcake," do you think "strawberry"? Then it's time to try the old classic with a delicious orange twist.
Preparation note: The day before you want to bake the cake, wash and peel 10 to 12 medium navel oranges. Cut into sections, leaving the white skin between the sections but discarding any seeds. Put into a bowl with 3/4 to 1 cup sugar and stir. Cover with plastic wrap and store in the refrigerator overnight.
Ingredients
1 bowl Florida navel orange sections with juice
1/4 pound butter or margarine
Florida's Natural® Orange Juice (enough to add to existing juice to make 1 quart)
1/4 cup cornstarch
1/2 cup shortening
1 & 1/2 cups sugar
1 tablespoon vanilla extract
2 eggs
2 & 1/4 cups flour
1 teaspoon salt
1 cup + 2 tablespoons milk
2 & 1/2 teaspoons baking powder
Instructions
Place a large sieve over a saucepan and pour orange sections with juice into sieve. Set aside sections and add 1/4 pound butter to juice from oranges. Mix cornstarch with 1/2 cup orange juice and then add to the juice in the saucepan. Add enough juice to make about a quart. Bring to a boil and cook until thickened. Set aside to cool.
Stir 1/2 cup shortening to soften. Gradually add sugar and cream together until fluffy. Add vanilla, then eggs, one at a time, beating until smooth. Alternate adding flour, then milk, a little at a time, beating until smooth. Pour into a 9x13-inch pan and bake in a 375° F oven for approximately 25 minutes. Cool in pan for 10 to 15 minutes. Turn out on rack and let cool completely.
To assemble: place cake on long platter. With a long, thin-bladed knife, slice the cake in half lengthwise. Carefully lay the top half upside down on another platter.
Arrange orange sections all facing the same way, until cake is covered. The pour half the sauce over sections. Place top half of cake carefully on top of bottom half, and repeat the procedure, ending with sauce over the top of finished cake. Serve in squares and pour any leftover sauce on each serving.