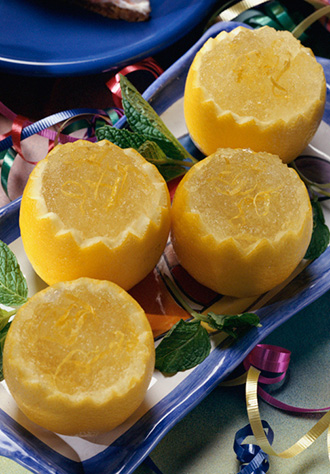 Lemon Ice in Lemon Cups
What's cooking
It just doesn't get more summery than this. We love eating our lemon ice served in individual lemon "cups," while sitting on the porch swing.
Ingredients
6 large lemons
1 envelope unflavored gelatin
1/2 cup sugar
1/4 cup water
2 cups of Florida's Natural® lemonade
Mint for garnish
Instructions
Cut tops off lemons, leaving about 3/4 of the lemon intact; reserve tops. Scoop out insides, reserving pulp. Clean out shells and cut a small slice off bottoms so that the "cups" can sit without rolling. Cut a decorative edge into top of the "cups".
Squeeze juice out of pulp and strain. Cut lemon zest from reserved tops. In a small saucepan, combine the gelatin, sugar and water. Over medium heat, stir until gelatin and sugar have melted. Remove from heat. Stir in lemonade, reserved lemon juice and zest. Pour mixture into glass baking dish. Freeze for 2 hours until slushy and slightly set. In the same dish, beat with an electric hand mixer on low speed until smooth. Scoop out into lemon cups. Garnish with mint.
Serves 12