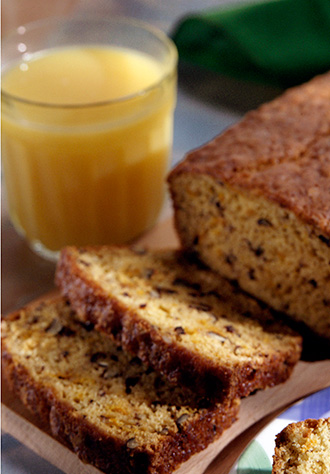 Orange Nut Bread
What's cooking
Submitted by Steffen Bentley, Citrus Marketing Services, Inc.
For the holidays, this simple recipe makes a very thoughtful, homemade gift. Bake it for teachers, neighbors, coworkers or anyone who made your year a little brighter.
Ingredients
2 tablespoons butter or margarine
1/2 cup boiling water
2 cups sifted flour
1 teaspoon baking soda
1 teaspoon baking powder
1/2 teaspoon salt
1/2 cup Florida's Natural® Orange Juice
2 tablespoons grated orange rind
1 cup sugar
2 teaspoons vanilla extract
1 egg
1/2 cup chopped nuts
Instructions
Melt butter or margarine in boiling water in a medium bowl.
Add orange juice, grated rind, sugar, and vanilla to butter and water.
Add slightly beaten egg.
Sift flour, baking soda, baking powder and salt together.
Sift dry ingredients over orange mixture, add nuts and stir until moist (batter will be lumpy).
Pour into a greased and floured 4x8-inch loaf pan and bake at 350° F for 1 hour, or until a toothpick comes out clean.
Remove from pan and cool on wine rack.
Wrap in waxed paper and store.
Slices best on second day.