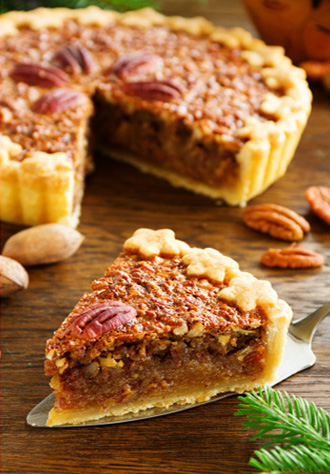 Orange Pecan Pie
What's cooking
Who can resist a slice of pecan pie during the holiday season? Adding a little Florida's Natural® Orange Juice gives this dessert a tangy flavor boost!
Crust Ingredients
Use either a ready-made single pie crust or this crust recipe:
1 cup all-purpose flour
1/2 cup chilled vegetable shortening or lard
1 teaspoon orange zest
1/2 teaspoon salt
1 teaspoon sugar
1 tablespoon Florida's Natural® Orange Juice
2 to 3 tablespoons ice cold water
Filling Ingredients
3 tablespoons Florida's Natural® Orange Juice
1/3 cup butter, melted
1 cup dark corn syrup
3 eggs, beaten
2/3 cup sugar
1 & 1/2 cups pecan halves
Crust Instructions
Add flour, salt, orange zest and sugar to a mixing bowl (or food processor). Cut shortening into chunks and add to the bowl. Slowly mix together until shortening is in small pieces and has been coated with flour. Add Florida's Natural® Orange Juice and then cold water in 1-tablespoon increments, mixing slowly, until dough is moist enough to form a ball.
Refrigerate dough for at least 4 hours. On a lightly floured surface, roll out dough until it's 1/8 inch thick. Gently place in a 9-inch pie pan, smooth and shape an edge at the top, and refrigerate for at least 30 minutes.
The crust then needs to be partially baked. To prevent bubbles, line the crust with foil and add enough dried beans or uncooked lentils to weigh down the dough. Bake at 400° F for 15 minutes, or until lightly brown at edges. Carefully remove foil and beans, and let cool completely before filling.
Filling Instructions
Combine Florida's Natural® Orange Juice, butter, corn syrup, eggs and sugar in a large mixing bowl.
Stir until mixed together.
Fold in pecan halves and add filling to partially baked crust.
Cover crust edges with foil, bake at 350° F for 20 minutes and remove foil from edges.
Bake for another 25 to 30 minutes, until filling is firm.