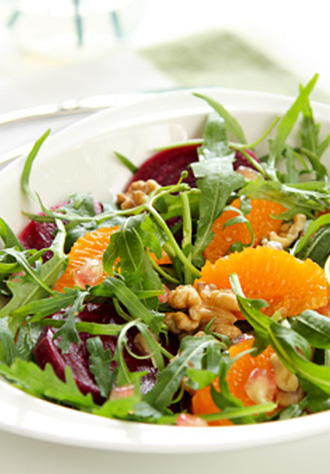 Citrus Dressing and Arugula Salad
What's cooking
Filled with a delightful mixture of crisp, colorful veggies, this all-season salad is topped with a fresh, tangy dressing.
Ingredients
1 cup Florida's Natural® Orange Juice
1 cup extra-virgin olive oil
1/4 cup balsamic vinegar
1/4 cup lemon juice
1 teaspoon fresh rosemary, chopped
Dash of salt and pepper
Salad Ingredients
1 large bunch arugula leaves, rinsed and stemmed
1 cup grape or cherry tomatoes, cut in half
1/4 cup cashews, toasted and chopped
1/4 cup dried cranberries
3 ounces goat cheese, crumbled or grated
Instructions
Whisk together all of the dressing ingredients. Refrigerate dressing until ready to use.
Combine all salad ingredients in a large bowl. Toss salad gently, while adding enough dressing to coat all of the arugula. Serve and enjoy!