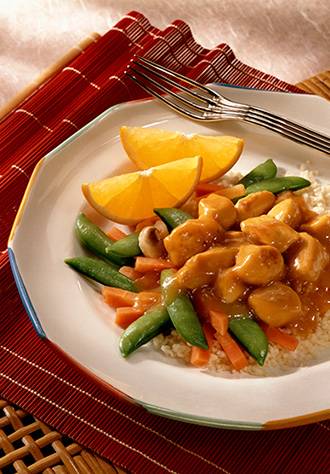 Saucy Chicken Over Couscous
What's cooking
Here's a recipe that takes only minutes to make, but you'll keep in your recipe box forever. It's good and good for you.
Ingredients
1 pound skinless, boneless chicken breasts
1 cup Florida's Natural® Orange Juice
1/3 cup teriyaki sauce
4 teaspoons cornstarch
One 16-ounce package loose-packed frozen stir-fry vegetables (sugar snap peas, carrots, onions and mushrooms)
Nonstick cooking spray
1-2 teaspoons cooking oil
3 cups hot cooked couscous
Orange wedges (optional)
Instructions
Rinse chicken; pat dry with paper towels. Cut into bite-size pieces; set aside.
For sauce: In a bowl, stir together orange juice, teriyaki sauce and cornstarch; set aside. Cook vegetables in a small amount of water until crisp-tender; drain. Keep warm.
Meanwhile, spray an unheated large skillet with nonstick cooking spray. Preheat over medium heat. Add half of the chicken and stir-fry for 2-3 minutes, or until tender and no longer pink. Remove and repeat with remaining chicken, adding more cooking oil if necessary. Return all chicken to skillet. Push chicken away from center of skillet. Stir sauce and add to center of skillet. Cook and stir until the mixture is thickened and bubbly. Cook and stir for 1 minute more.
Serve immediately over vegetables and couscous. If desired, garnish with orange wedges.
Serves 4-5